With the growth of the online business industry, people are looking for ways to create a website with minimal effort.
Zyro is one of the platforms that allows exactly that. This site builder comes packed with a variety of easy-to-use features essential for a visually appealing and well-optimized website.
If this website builder caught your interest, you've come to the right place. This Zyro review will explain all there is to know about the platform, including its benefits, drawbacks, and pricing plans.
What Is Zyro?
Zyro is a website builder, which is an online tool for people who want to create a website quickly and easily. Best of all, it requires no coding or design skills to get started.
It comes with a WYSIWYG interface where users can perform edits directly on the web pages using the tools and elements available.
How Is Zyro Different From Other Website Builders?
Zyro has several standout features differentiating it from other website builders. One of them is the intuitive drag-and-drop editor. 
Although this feature is available on other platforms, Zyro's version provides users with tons of flexibility while still being simple to use.
The second standout feature is Zyro's artificial intelligence (AI) tools that help clients with their online business' branding and marketing.
For instance, the AI Slogan Generator can generate ideas for a brand tagline using keywords suggested by the user. Users can pick one of the suggested slogans or use it to jump-start the brainstorming process. 
Finally, Zyro offers key website-building tools at a lower price compared to most other website builders.
Pros of Zyro Website Builder
Here are eight reasons why Zyro is one of the best website builders on the market:
1. All Site Builder Essentials Are Available
One hassle new website owners often face is purchasing elements needed for a site from separate places. This is true for those using a content management system (CMS), which usually requires getting a web hosting plan and custom domain separately.
Zyro clients don't have to face this issue as each plan includes a web hosting plan to make the site available to the public. Better yet, it comes managed by the Zyro team, so there's no need to configure the back-end yourself.
Zyro also provides all clients with a free SSL certificate. This feature will encrypt the connection between the website and the visitor. That way, unauthorized parties won't have access to sensitive information belonging to the site owner or user.
On top of that, all Zyro-built websites have CDN enabled, thanks to Cloudflare. It's a group of servers that will deliver the site content as well as add a layer of performance boost and security protection, namely from DDoS attacks.
Finally, those who already own a domain name can connect it to their website for free using any Zyro plans. Some website builders, like Weebly, do not offer this benefit in their most affordable subscription plan.
If you don't have a custom domain name yet, one of the three top-tier packages comes with a free domain registration for one year.
2. The Zyro Platform Is Lightning Fast
Speed is of the utmost importance when it comes to sharing information and conducting business online. Extensive research has shown a slow website performance can:
Cause visitors to leave the page prematurely
Negatively affect conversion rates
Lower the chances for ranking on search engine results pages (SERPs)
Thankfully, Zyro prides itself on being lightning fast. To see whether the site builder lives up to the claim, we performed a speed test using PageSpeed Insights, which revealed impressive results: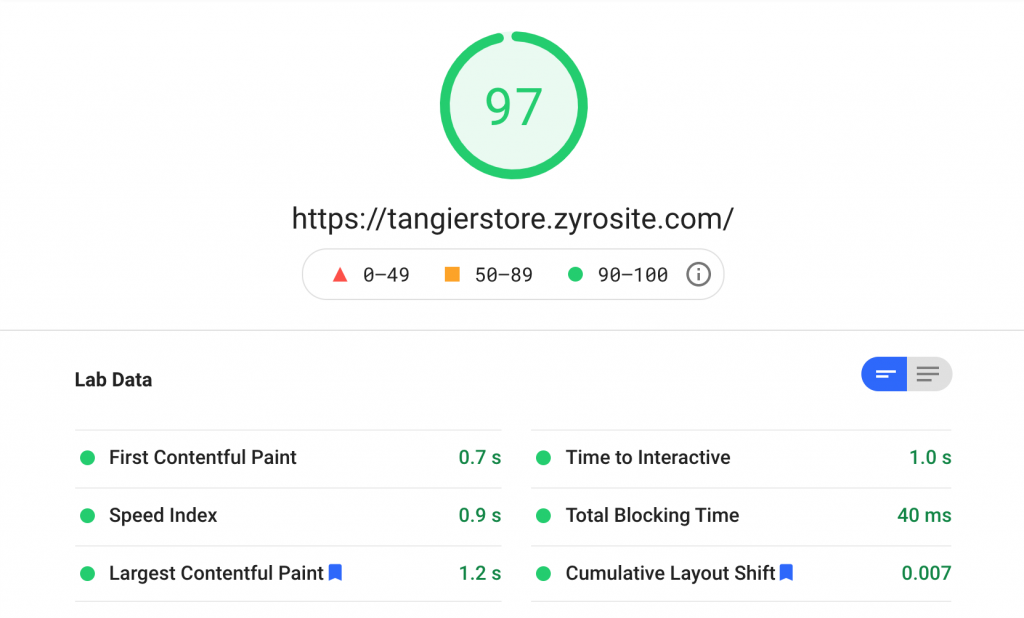 One factor for such good loading speed is Zyro's use of cloud hosting. Unlike traditional web hosting, this service uses virtual servers to support each website, resulting in a more reliable performance. It also helps with making the site less prone to downtime.
Furthermore, the built-in CDN increases performance by delivering the site content to the user from the server closest to them.
3. Designer-Made Templates for All Types of Websites
Another excellent feature from Zyro Website Builder is its library of free templates. They come in various design options suitable for different purposes. Here are the available categories:
eCommerce
Service business
Photography
Restaurant
Portfolio
Resume
Events
Landing page
Blog
All Zyro templates have a minimal and modern aesthetic, making them stylish and lightweight.
What's more, they have a responsive website design to make your website automatically adjust to desktop, mobile, and tablet screen sizes. Besides improving user experience, this feature can help with SEO as well.
For example, a template called Tixly has the essential design features for an online store. The shop page is already in place for Zyro eCommerce clients to display their products right away.
Additionally, the homepage is optimized for selling. This includes a call-to-action button next to the banner, an About Us section, and a place for the main products to be displayed.
On the other hand, Knapp is an excellent template for photography sites. It comes with separate album pages photographers can use to organize their work. There is also a contact page with a form for visitors to get in touch with the site owners.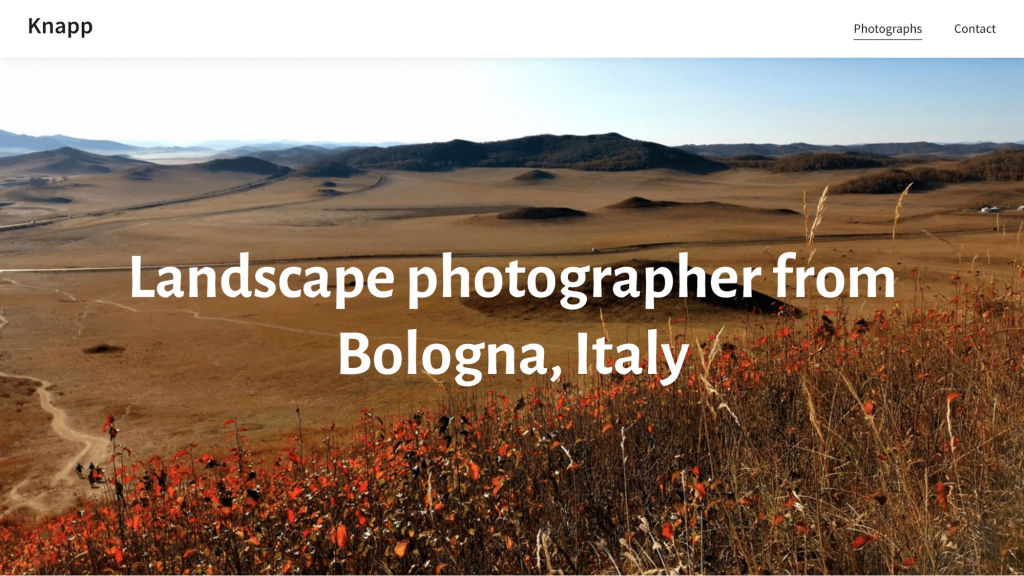 4. Zyro Is Easy to Use
When it comes to ease of use, Zyro is excellent. The visual interface is intuitive enough for users to navigate through without relying on an information manual. On top of that, it offers plenty of control to personalize the templates.
Zyro's onboarding process is similar to other site builders'. Sign up for an account, choose one of the templates, and pick a paid plan. Once you're logged in, the drag-and-drop editor will appear on the screen.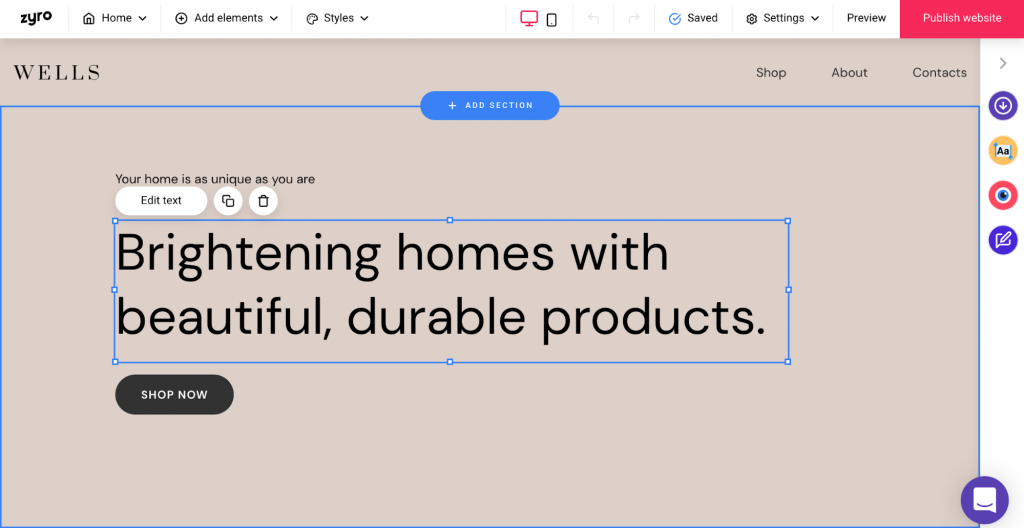 The Zyro editor allows users to move, resize, and modify all the page elements. Unlike some website builders, there are no block-based restrictions that limit the placement of the components.
Additionally, the drag-and-drop builder divides the template's layout into separate sections, which you can modify, duplicate, delete, resize, or move up and down.
Each section contains a grid system to snap the elements into the proper alignment and maintain their proportions – a handy tool for non-designers and people with minimal technical skills.
Other than that, the Zyro interface has a top menu to access the following features:
Pages and navigation. Here, users can add or remove a page and assign which pages will appear in the navigation menu. Editing the page's name and URL is also possible, which can be helpful for SEO.
Add elements. Zyro allows adding text, image, video, button, grid gallery, Google Maps, Instagram Feed, and social media icons. There are also business-oriented options like subscription sign-ups and contact forms.
Styles. Open this tab to access Zyro's design tools and change the template's aesthetic elements. Users can modify the color palette, typography, and button shape.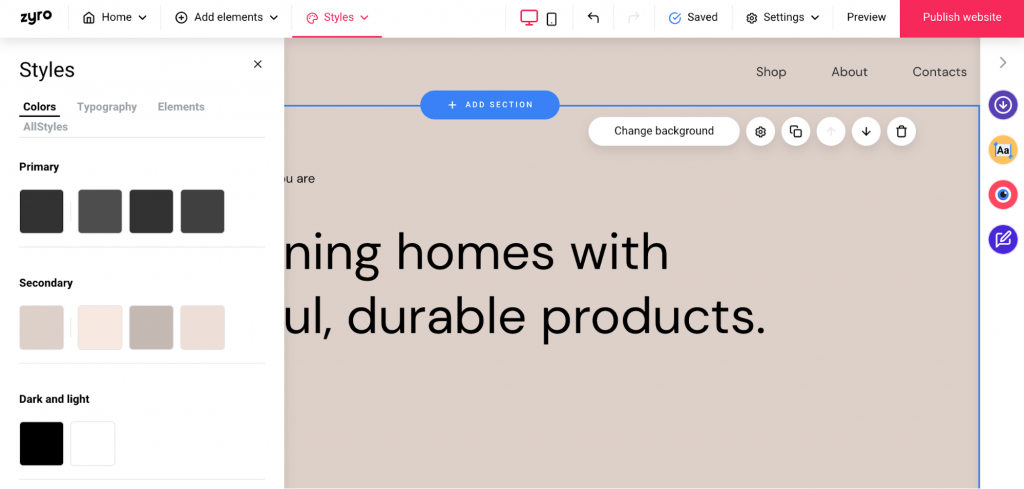 Mobile editing mode. Other website builders usually only allow the user to preview their site on mobile. Zyro takes this feature to the next level by enabling clients to edit the page elements or sections using a mobile device.
Settings. Click on this tab to manage the website's general settings, domain name, third-party integrations, online store, on-page SEO configurations, Zyro plan subscriptions, and form submissions.
On the right side of the screen is a sidebar containing buttons to access the Website Importer, AI Writer, AI Heatmap, and Blog. The first tool is helpful for users who want to transfer their existing site to Zyro.
With Zyro, there is no need to worry about losing unsaved edits when the tab accidentally closes, or the computer shuts down abruptly. The website builder will automatically save all the changes made every few seconds. 
Should you need help with the Zyro editor, a live chat support button is available in the bottom-right corner. Users can contact the customer service team or access the knowledge base.
5. Intuitive eCommerce Functions
Both eCommerce and eCommerce Plus plans offer the essentials needed to launch an online business, all of which are accessible via the online store manager. What's more, Zyro doesn't charge any commission fees.
Here are some of the standout features:
Order tracking and management. Website owners can monitor orders from when the customer purchases an item to the minute the carrier delivers the product. It's also possible to add new orders from the back-end and keep a record of past customers.
Catalog management. Besides modifying the product description, price, and categories, you can create variants and specify related items for upselling. There are also stock control settings to prevent stockouts.
Storefront customization options. Feel free to modify the product page's image presentation, content layout, and navigation system. Users with some coding experience can insert custom CSS.
All-in-one marketing features. Examples include discount applications, gift cards, Google and Facebook Ads, and automated email notifications. Zyro allows customizing the product page's metadata for SEO as well.
Secure online payment options. 50+ providers are at your disposal, including Stripe and PayPal. Zyro complies with the PCI standards, which ensures the security of customers' credit card information.
Automated tax calculations. Choose to apply taxes automatically based on your business's region. In some online store builders, this function is only accessible with a third-party extension.
Mobile application. Manage your eCommerce website on the go using the Zyro Store app, available on iOS and Android.
Multiple shipping options. Set up free, flat-rate, or custom-priced shipping. Zyro US clients can integrate their online store with major vendors like USPS to get automatically-calculated shipping rates.
App market. Zyro eCommerce clients can access online-selling add-ons, such as Kliken to analyze business performance and HelpfulCrowd to share product reviews.
The difference between Zyro's eCommerce and eCommerce Plus plans is that the first option only allows selling up to one hundred products. Therefore, it's better suited for online businesses with smaller inventory.
On the other hand, the eCommerce Plus plan allows displaying unlimited products. Additionally, there are additional perks like:
Multi-channel selling via Amazon, Instagram, and Facebook to expand your market reach.
Abandoned cart recovery to remind customers who left the checkout page to complete their order.
Multilingual support for online stores selling internationally.
Product filtering to allow customers to limit the number of displayed items by price, category, variant, or availability.
6. AI-Powered Content and Marketing Features
As previously mentioned, Zyro's AI tools are one of the features distinguishing this site builder apart from competitors. They're excellent for business novices who need help with branding and marketing.
Besides the AI Slogan Generator, Zyro offers plenty of other features for creating a business identity.
For instance, the AI Logo Maker comes with excellent icon templates to choose from. Once you pick one to your liking, the AI Logo Maker will present several color and shape variations you can use to personalize the image. 
Users can download the final result, edit the icon using the provided design tools, or restart the logo maker to generate a new image.
Another excellent feature Zyro offers is the AI Writer, which is accessible from the editor dashboard. 
The AI Writer can create web copies based on the topic and type of text you've selected. This eliminates the need to write the content from scratch, which is useful for users with no copywriting experience.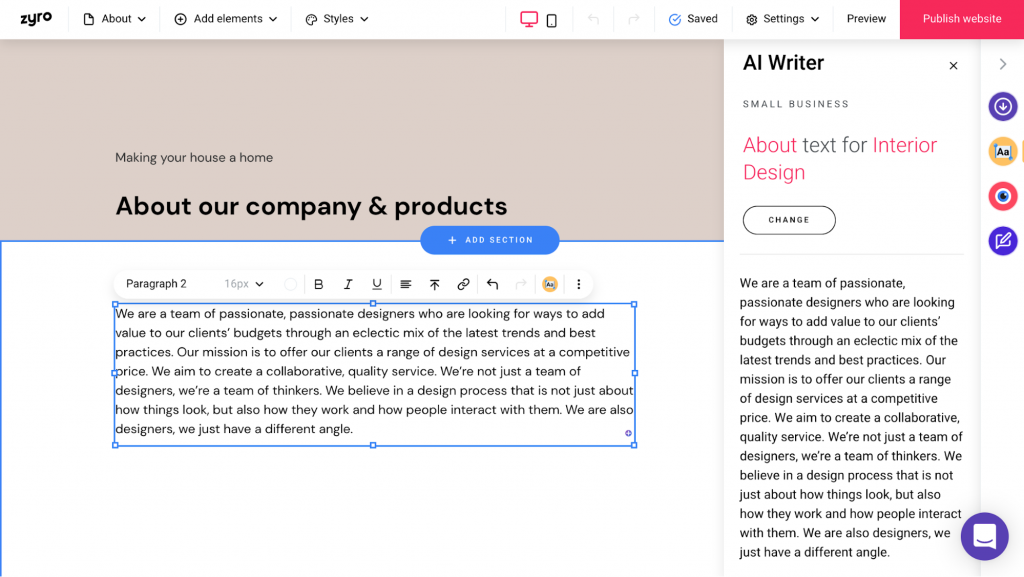 If you're struggling with encouraging users to stay on the website, use the AI Heatmap.
This user experience analysis tool can analyze the web content and reveal where visitors will direct their attention to the most. This makes gaining data-driven insights for redesigning the website quick and easy.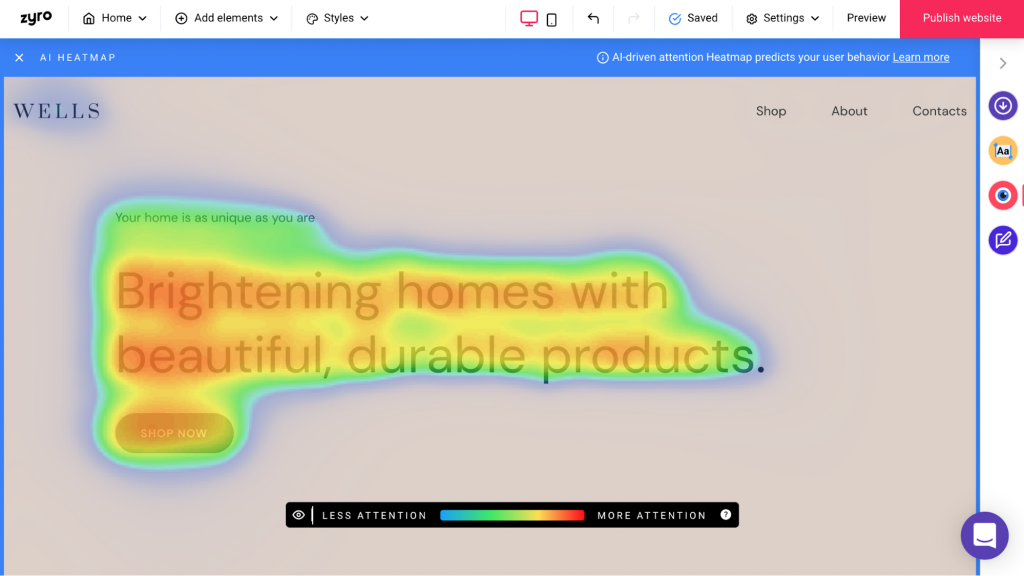 Other than the features mentioned, Zyro also offers the following tools:
AI Business Name Generator. Create various company name ideas using the keywords entered.
AI Blog Title Generator. Select a niche, and the tool will come up with relevant blog post ideas.
AI Image Upscaler. Upload a low-resolution image, and it will improve the picture's quality by removing its noises and blurs.
AI Background Remover. This tool can identify the image's subject and make the background transparent.
AI Website Generator. This tool will create a custom template based on the client's preferences. It will appear as an option when users want to create a new website from the Zyro dashboard.
7. Powerful Integrations to Foster Growth
To complement its built-in features, Zyro Website Builder offers several third-party integrations to help clients build success online. Below is the list of available apps that this site builder comes with:
Google Analytics. A well-known analytics tool that can reveal various aspects of a website's traffic, ranging from the demographics and device usage to people's actions upon visiting a page.
Google Tag Manager. A feature for deploying, measuring, and managing multiple code snippets that track visitors' actions on a website. This app is often used together with Google Analytics to customize the type of data for analysis.
Hotjar. A user experience analytics software that offers a more advanced version of the AI Heatmap. It can identify users' clicking and scrolling behavior on a website. It also has visitor recording, surveys, and a visual feedback feature.
Facebook Pixel. A piece of code that can track and report visitors' activity when they click a Facebook ad and come to your website. It's helpful in measuring and optimizing a campaign's results.
Messenger Live Chat. A messaging app by Facebook, perfect for providing chat support on a website. Any inquiry sent via this tool will appear on your Facebook Messenger's inbox.
8. 24/7 Customer Success Team and Clear Knowledge Base
The last benefit we will discuss in this review is customer service. There are four channels to ask for assistance – live chat, knowledge base, email, and a contact form.
The first option is available to existing clients only. The customer support button is open 24/7 on any Zyro web page, where users can get help in real-time at any point in their website-building journey.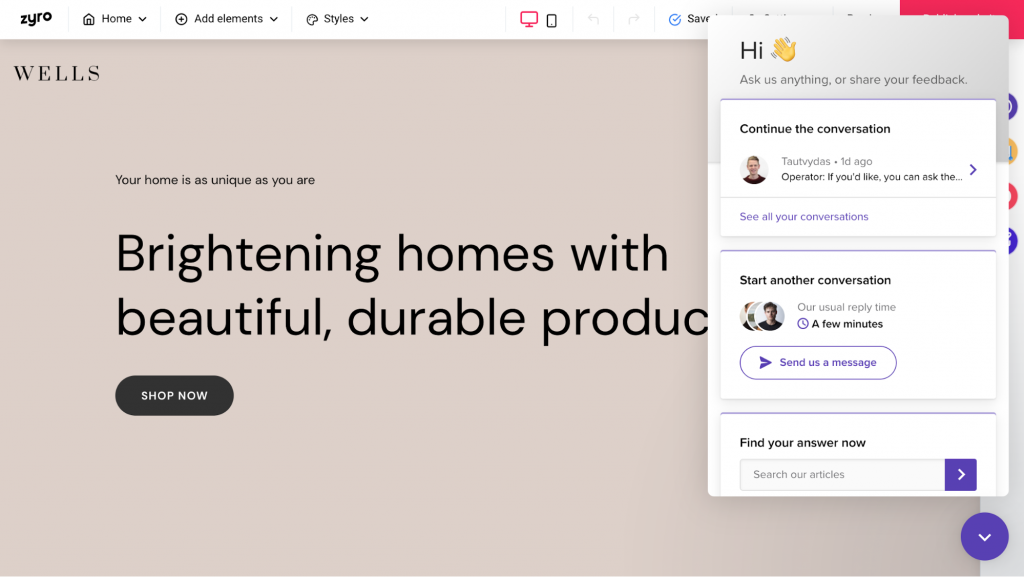 The chat support feature will also save previous conversations a client had with the customer service representatives. Should a user face a similar problem in the future, they can open these messages instead of asking the same question.
If the Zyro customer support team doesn't reply right away, they will send a response to your email.
Alternatively, refer to the knowledge base. The system is easy to use – simply insert some keywords in the search box, and it will show results based on the terms. Most of the articles are clear and straight-to-the-point, with screenshots to visualize the instructions.
If you want to make inquiries before purchasing a plan, submit a contact form or send an email to [email protected].
Cons of Zyro Website Builder
Zyro offers multiple advantages – from all-inclusive plans and ease of use to responsive and efficient customer support. However, it has several downsides to consider.
1. Limited Functions
Although Zyro manages to cover the basics, it doesn't offer as many advanced features as other website builders.
For instance, while all Zyro plans provide a free domain connection, they don't come with an email account. As a result, users have to subscribe to external services to create their business email addresses.
Additionally, some users may find the existing features lacking, like the blogging function. For now, this feature includes a post editor, category management, and blog page layout customization.
However, the blogging feature can benefit from having a comment system too in order to encourage audience engagement.
All this said, Zyro is relatively new, so expect to find new features soon.
Clients interested in the website builder's upcoming changes can check out the Zyro roadmap option from the dashboard. It's also possible to vote for new ideas or submit one if you have specific requests.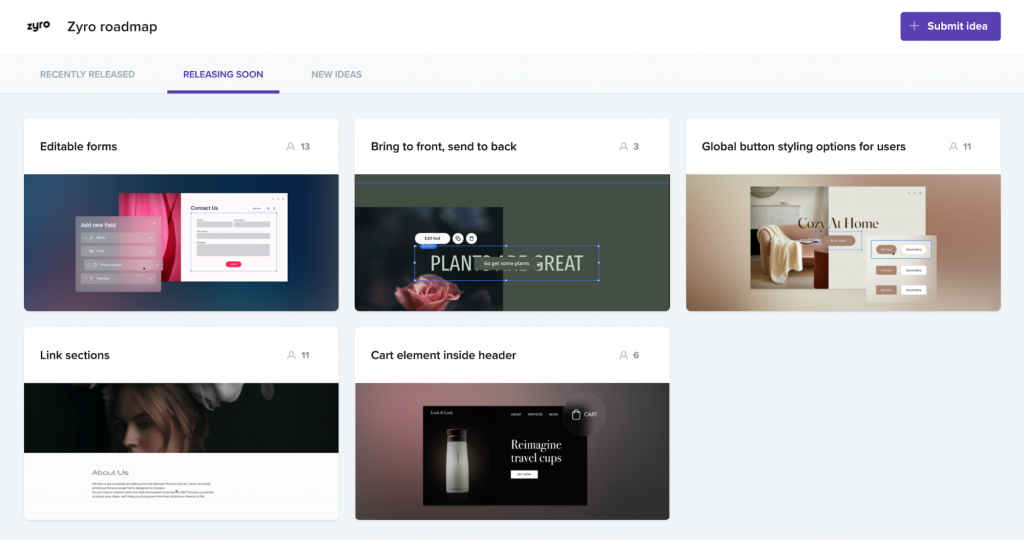 2. Lack of Customization Freedom
Next on the list of Zyro cons is its limited customization options. Namely, the design features don't offer plenty of room for creative freedom.
For instance, the option to add animated effects isn't available unless you are customizing the button element. In practice, this feature can create more user interaction.
The gallery element is also only presentable as a grid. Many web builders usually provide multiple formats, such as slider, carousel, or accordion.
On top of that, Zyro doesn't allow template switching, so you have to make a new website to rebuild the design.
All things considered, creating a good-looking website is feasible with the existing customization settings. With the flexible drag-and-drop builder, users have plenty of ways to personalize the free templates to their liking.
Secondly, Zyro's basic feature set makes the application more lightweight. As such, it will not hoard too many resources or slow down your web browser during the website-building process.
Zyro Pricing
There are four paid plans available at Zyro, all of which include:
Custom domain name connection
Free SSL certificate
Managed cloud hosting
Zyro ads removal
Free templates
Custom favicon
Unique Zyro's AI tools
Blogging and SEO features
The table below illustrates the differences between each Zyro plan:
| | | | | |
| --- | --- | --- | --- | --- |
| Features | Basic plan | Unleashed plan | eCommerce plan | eCommerce plus plan |
| Storage | 1 GB | Unlimited | Unlimited | Unlimited |
| Bandwidth | 3 GB | Unlimited | Unlimited | Unlimited |
| Free domain for one year | No | Yes | Yes | Yes |
| Third-party integrations | No | Yes | Yes | Yes |
| Online payments | No | No | Yes | Yes |
| eCommerce functions | No | No | Yes | Yes |
| Abandoned cart recovery | No | No | No | Yes |
| Multilingual support | No | No | No | Yes |
| Selling on social media and Amazon | No | No | No | Yes |
| Product filters | No | No | No | Yes |
| Pricing | $1.89/month | $3.09/month | $8.99/month | $14.99/month |
Note that the prices listed above apply for a four-year term, so the number may change if you pick a different subscription period. Clients can also upgrade to a higher plan if they need more features or have outgrown their current resources.
Zyro offers a 30-day money-back guarantee, so there is minimal risk if you want to give the website builder a try.
A Quick Look at How to Use Zyro
Here's a brief visual tutorial on using Zyro:
Head over to the website builder page via the Hostinger homepage. Or, head over to the online store page if you're starting an eCommerce site.
Press Select on one of the plans. You will arrive at the cart page.
Pick one of the four subscription periods. Click Checkout Now and proceed with the payment process.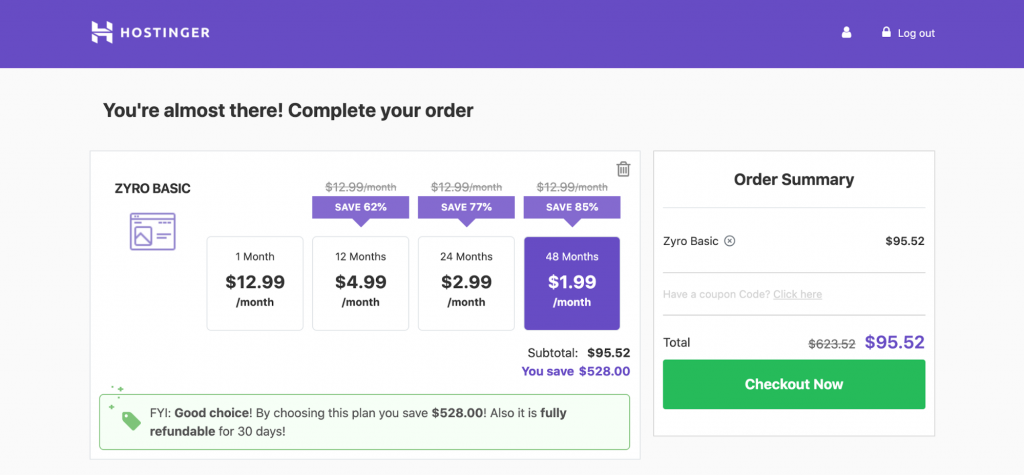 On the following page, click Get Started.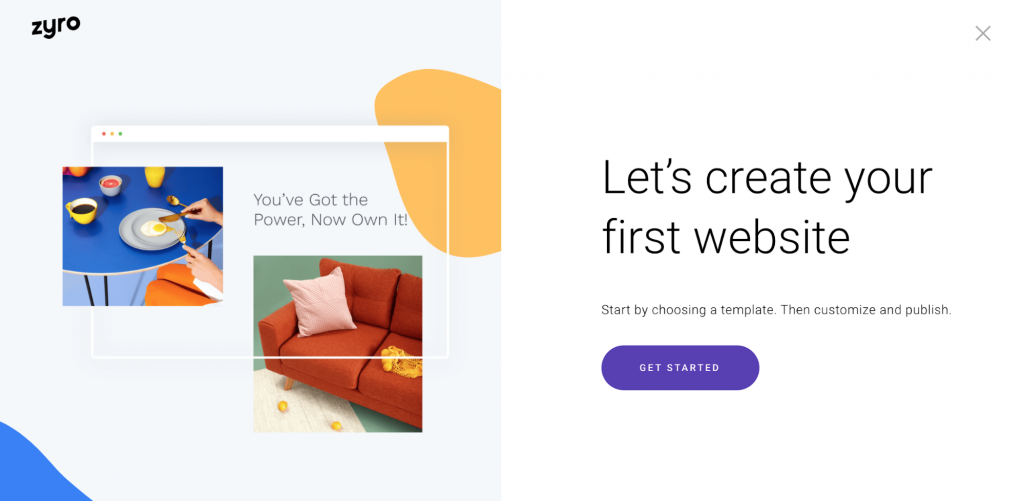 Look at the templates, select one and click Start building. It's best to pick a template that suits the website's purpose to minimize the number of tweaks you need to make.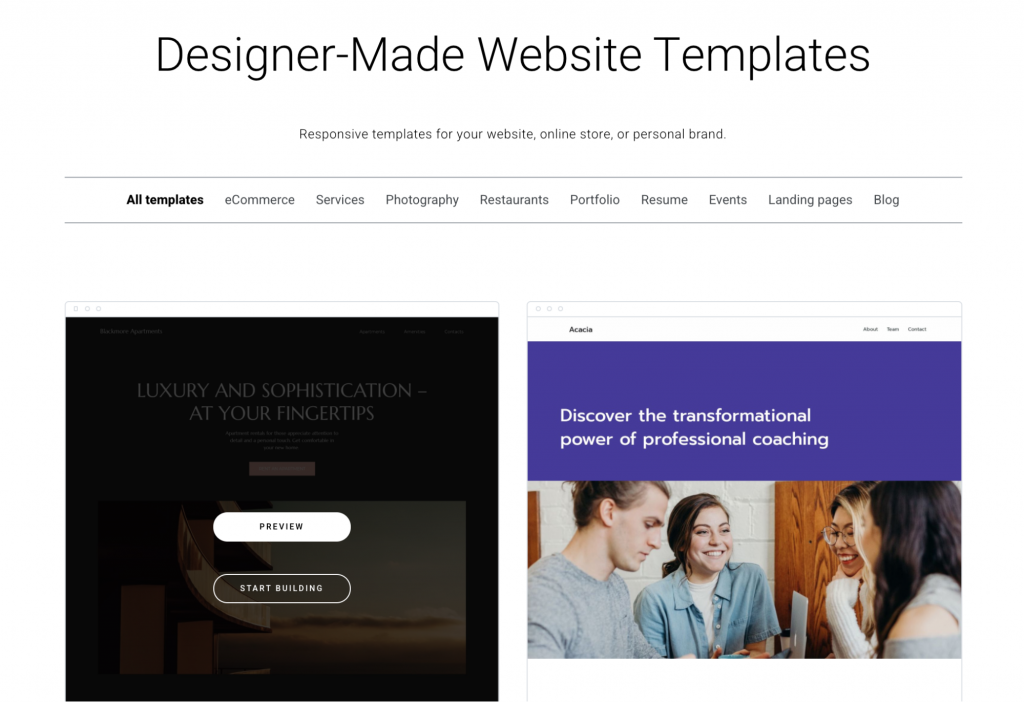 Customize the website to your liking. Feel free to replace the content, add new elements, change the styles, and use the AI Writer or AI Heatmap. For an eCommerce store, don't forget to insert the products and edit the storefront.
Click Preview to see how your website will look on the front-end.
Once you're satisfied with the final result, press the Publish website button on the top-right corner. A popup will appear asking you to choose between a Zyro subdomain or a custom domain for your website.
Click Continue.Your Zyro website is now live.
Who Is Zyro Best Suited For?
The visual editor interface, managed hosting, and zero-coding requirement makes this website builder best suited for beginners in need of a website.
On top of that, the pricing is ideal for freelancers and small to medium-sized eCommerce business owners looking to get the most value out of their budget.
That said, we don't recommend Zyro for individuals looking to make a site with a specific function. The website builder only covers the basics and offers lower extensibility compared to other site builders and platforms, like WordPress.
On a related note, the Zyro builder is not the best solution for large enterprises because that usually requires more resources to support high online traffic.
Zyro Review: A Summary
All in all, Zyro is an easy-to-use builder that offers all the essentials to create a website or an online store. Here's a quick recap of what makes Zyro an excellent choice:
Managed hosting, SSL certificate, built-in CDN, and free domain connection included in the paid plans.
Speedy performance.
Modern and responsive free templates suitable for any purpose, from personal websites to eCommerce stores.
Ease-of-use of the flexible drag-and-drop builder and user-friendly interface.
No commission fees and intuitive online selling functions in the eCommerce plans.
The AI tools, such as the AI Logo Maker, AI Writer, and AI Heatmap.
Third-party integrations to help clients build their online presence.
24/7 customer support via live chat, knowledge base, email, and a contact form.
While Zyro's built-in tools and customization features may not be the most robust, expect to see some new additions to the website builder soon.
Zyro offers four subscription plans. The most affordable option is the Basic plan, which costs $1.89/month. There is also a 30-day money-back guarantee in case clients are not satisfied with the plan.
We hope this Zyro review has answered all your questions. Let us know if you've tried the website builder, and leave a comment down below.